Our Services
Serving Macomb County
Happy Transit in Chesterfield, MI is a non-emergency medical transportation provider. We transport seniors from one area to the next. Do you need to be at your dialysis appointment within the next hour? Call 586-765-0000 to schedule your transportation appointment with us today.

* Non-Emergency Wheelchair Lift Transportation
* Wheelchair Lift Van Service
* Local Non-Emergency Transportation
* Senior Citizen Transportation Specialists
About Us
Transportation Service Chesterfield MI
Happy Transit near Chesterfield, MI provides non-emergency medical transportation that caters to the needs of individuals with ambulatory or mobility challenges within the Metro Detroit area. Whether you use a walker, cane, wheelchair, or just need a friendly arm to hold on to; our transportation specialists are here to escort you to any destination you choose.
If you have never used Happy Transit, you can expect a mixture of professionalism, comfort, and security while you are in our capable hands. We have the training and means to safely escort our clients to any destination you choose.

We are dedicated to providing you with a high level of attention, comfort, and care, as well as our commitment to meet or beat any advertised pricing for your transportation needs.

Have you been involved in an accident, or have fallen and need reliable transportation for Doctor appointments, physical therapy, or dialysis appointments? Do you need to go to the pharmacy, grocery shopping, bingo hall, casino, or Church gathering?

Count on Happy Transit to provide the professional care and assistance that you deserve, at a price designed to fit your budget.

We serve all of Northern Macomb county, as well as neighboring Oakland and St Clair County communities. Whether you live in Chesterfield, Sterling Heights, Macomb or in another nearby community, we welcome you to Happy Transit.

Call Happy Transit at 586-765-0000 today to schedule your wheelchair van transportation service. Happy Transit operators are available 24 hours a day to accommodate your transportation needs.

**Happy Transit is licensed by the State of Michigan and our drivers must meet state and employer requirements to qualify for employment. Happy Transit is compliant with all Licensing and Regulatory Affairs (LARA) in the state of Michigan.

**All of our Transportation Specialists are certified through the American Red Cross for Adult First Aid, CPR & AED defibrillation techniques.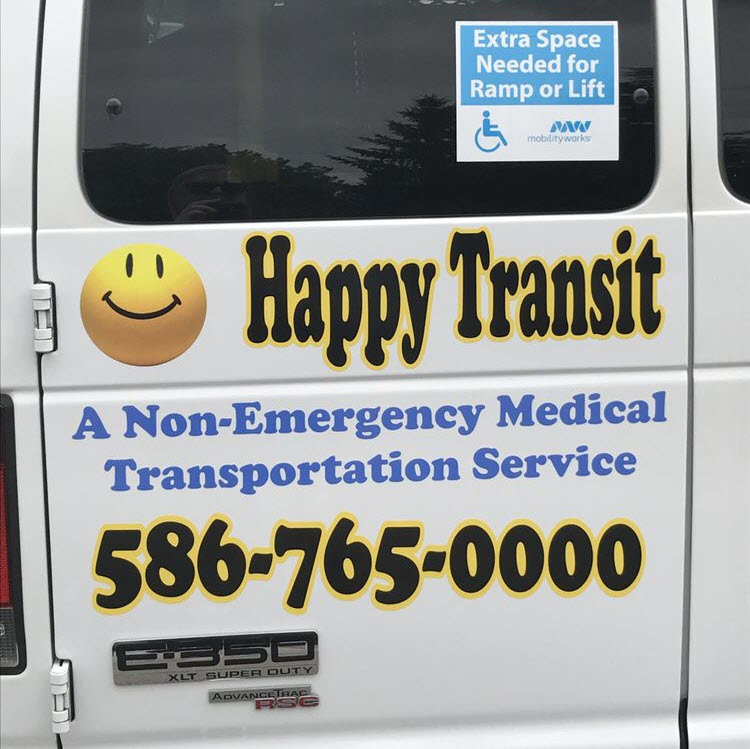 Transportation Service Chesterfield MI
---
Payment Methods
Master Card, VISA, American Express, Discover, Cash